Exam Reader - exam / test grading app for mobile phones & tablets
Exam Reader - OMR optical mark recognition, exam/test sheet grading/scoring for mobile phones & tablets
Grade & score multiple choice tests, quizzes, and assessment papers by using iOS (iPhone, iPad) or Android or WP device's camera as a scanner. It can also read over-written marks. %100 success rate if used as described. Supports from 10 to 200 questions or more. Both horizontal and vertical sheets can be used (it is a first in this kind of application). Teachers can make their own sheets with a word processor (also a first).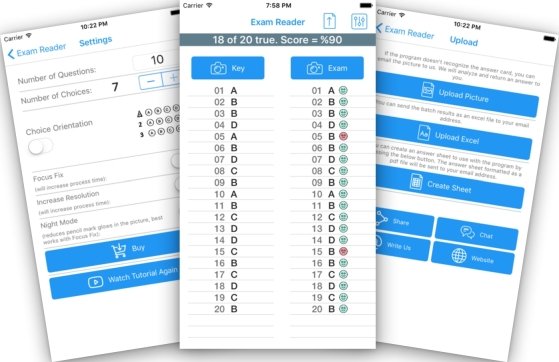 ---
ExamReader - Cloud
You can manage your classes, students, exams and results with ExamReader Cloud. It will give you intelligence about your students and exams.
---
---
You can watch the basic usage tutorial and learn the features of the program.
---
You can see some common problems at our Instagram page
---